Santa Monica Airport Resource Guide
Barker Hangar 
3021 Airport Ave. Santa Monica, CA 90405 (310) 390-9071 www.barkerhangar.com
The public is encouraged to attend the many events held at the Barker Hangar. The LA Arts Show, Macy's/American Express Passport Fundraiser, Dream Halloween & PAL Halloween Parties, Devine Design (Project Angel Food,) and The LA Antique Show are just a few of the distinctive events that have been held at the ultra-hip Barker Hanger. The Barker Hangar plays host to some of the most exclusive events in Southern California. It is located on the South side of the Santa Monica Airport(SMO). The venue is a unique space where clients are limited only by their imagination. The historic Barker Hangar at the Santa Monica Airport is known as one of Southern California's premier venues for charity, corporate and private events as well as video and film shoots. It is an ideal venue for rehearsals as well. The 35,000 square foot hangar is one of the biggest and most versatile venues in Los Angeles making it uniquely suited for events as diverse as concerts, retail sales, awards shows, trade shows and gala dinners. 
---
Santa Monica Airport Association
Formed in 1967, the primary purpose of the Santa Monica Airport Association is to plan and conduct activities and projects which will serve to improve directly or indirectly, the Santa Monica Municipal Airport and General Aviation. Click here to join!
---
Flying Schools
Once upon a time the majority of pilots learned to fly in the military. But as flying popularity grew, more and more flight schools began to take root around the country allowing anyone to "learn to fly." At Santa Monica airport, you can earn your student license and solo with as little as 20 hours of flight time and earn a private pilot's license in just over 40 hours. Many pilots go on to earn their instrument rating and multi-engine rating. A select few go on to earn their commercial license, airline transport pilot (ATP) and certified flight instructor (CFI Instrument) licenses. Listed below is contact information for the current flight schools operating at the Santa Monica airport. If you're not sure if flying is for you, but have always wanted to give it a try, call one of the flight schools below and ask to schedule a "discovery flight."
---
Pilot Outfitters
Pilot & Gift Shop Located at the Santa Monica Air Center / Barker Hangar
3021 Airport Ave. Suite 115 Santa Monica, CA 90405  Phone: (310) 398-5373  Email: [email protected] Website: www.pilotoutfitters.com
High quality aviation and lifestyle products designed to enhance your flying experience and life!
---
Flying Clubs
Flying Clubs are an inexpensive way share the cost of flying with other pilots, without having to rent an airplane.
Air-Spacers http://www.airspacers.com/
3025 Airport Avenue #11 Santa Monica, CA 90405.
Founded in 1956, Air-Spacers is Santa Monica's oldest flying club. Offering four aircraft in a friendly, supportive club environment limited to sixty-five members, Air-Spacers is a fun and affordable way to enjoy general aviation.
EAA Chapter 11 https://www.facebook.com/EAAChapter11/
Whether you fly, build, restore or simply enjoy airplanes and aviation, you are welcome to attend our events and join our chapter. We are a group of aviation enthusiasts, aircraft builders, and pilots who get together with like minded people to share ideas, exchange information, encourage safety, serve the local aviation community and have a lot of fun doing so. Please come to our next meeting or event as our guest.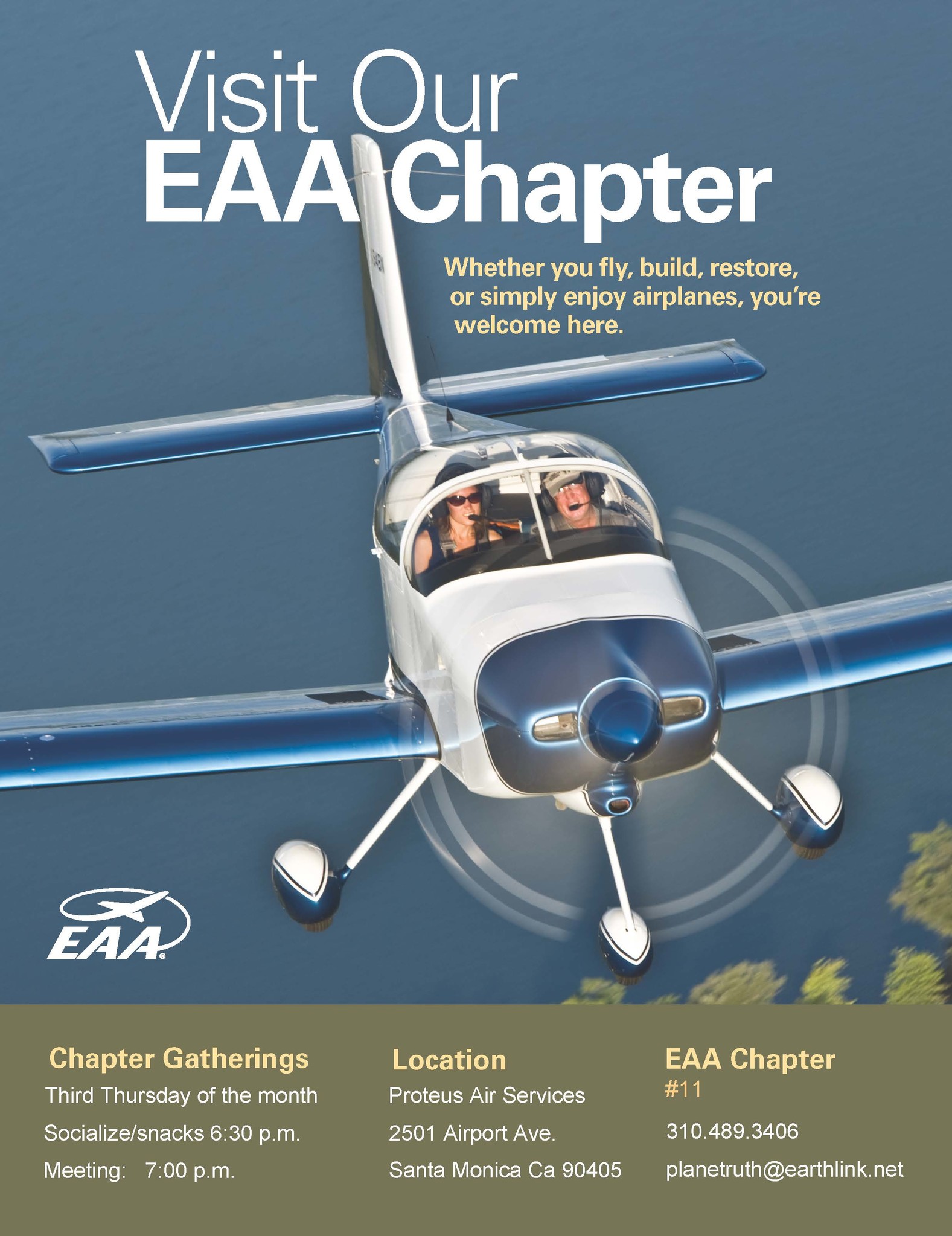 CIVIL AIR PATROL - COMPOSITE SQUADRON 51
3200 Airport Ave, #7, Santa Monica, CA 90405 https://www.sq51.org/
Civil Air Patrol Missions: Emergency Services, Cadet Programs, Aerospace Education
Los Angeles Chapter of the Ninety Nines
Santa Monica, CA  www.la99s.org 
The Los Angeles Ninety-Nines is a chapter of the Southwest Section of the Ninety-Nines International organization of women pilots. The Los Angeles Chapter was one of the original chapters of the Ninety-Nines, established on March 2, 1932. The Palms Chapter was chartered in 1978 and they merged into one chapter in 2001. Our members are all levels of flying expertise from new students to commercial pilots and instructors. We share a passion for flying and encourage any aviation enthusiasts to join us.
Fixed Base Operators (FBO) - Fixed Based Operators provide pilots, passengers & crew with valuable products and services essential to flight. Commonly called "FBO's", these companies are often responsible for the fueling of aircraft, delivery of oil, oxygen, catering, ground transportation, aircraft washing/detailing, aircraft maintenance, flight training, pilot supplies & more. FBO's often help make arrangements for overnight stays, transportation to and from local businesses and generally provide 24-hour service.
Atlantic Aviation - 2828 Donald Douglas Loop North, Santa Monica, CA 90405 tel. 310-396-6770 Located midfield on the north side of the airport, Atlantic Aviation offers both Jet-A and 100LL aviation fuels. The Atlantic Aviation FBO is generally used by jet aircraft but often has space available for a few singles and twins. 
Santa Monica Air Center - 3021 Airport Ave. Ste.  203, Santa Monica, CA 90405 tel. 310-390-9071. Limited FBO on the south side of the airport (no fuel services). Hangar and tie-down spaces available.
---
Aircraft Maintenance
Good maintenance of your aircraft is important. And, whether you're looking for an annual inspection, a complete overhaul or new avionics package; chances are what you're looking for can be found at one of Santa Monica airport's maintenance facilities. Listed below is contact information for the current maintenance facilities for general aviation aircraft at the Santa Monica airport.
Bill's Air Center (310) 397-8183
Kim Davidson Aviation (310) 391-6293
Santa Monica Propeller (310) 390-6233
Stealth Aviation (310) 581-1505
Aircraft Sales - Aircraft sales companies based at the Santa Monica airport.
 Aircraft Charter - Aircraft charter companies fly under FAR Part 135 located at Santa Monica airport.
Action Air Express - (310) 390-8802 
---
Aviation Charity–Private Pilots flying for the Public Benefit
Angel Flight West - (888) 4-ANANGEL 3159 Airport Avenue, Santa Monica, CA 90405 Located in the lower level of the general aviation building, Angel Flight is a charitable flying organization providing free air transportation on private aircraft in response to health care and other compelling human needs. Angel Flight West provides free transportation to medical treatment for people who cannot afford public transportation, or who cannot tolerate it for health reasons. Angel Flight also flies missions in response to other compelling needs. Angel Flight West accepts requests from individuals and health care professionals such as social workers or physicians. 
---
Antiques, Art Studios, Theater, Events, Public View Decks, Museum, Parks, Gardens, Restaurants & Education:
Antique Mart, Art Studios, Theater - The Santa Monica Outdoor Antique Market is held on the first & fourth Sunday of each month from 8am to 3pm on the parking lots between 3100 and 3026 Airport Ave.
18th Street Art Center - Under a soaring roofline is a vibrant community of artists and exhibition spaces that fill 22,000 square feet of this historic airplane hangar.
The Ruskin Theatre Group - a 49 seat theater space offers critically acclaimed performances, professional stage training and community arts' outreach programs.
---
Public View Decks
The Airport has two free and easily accessible viewing areas with ample free parking where the public is invited to watch aircraft activity. The Runway View Deck and the Public Sky-deck are located on the east and west ends of the Airport Administration Building, at 3223 Donald Douglas Loop South. Both areas are excellent spots to watch airplanes, take photographs, listen to the air and ground activity from the control tower, which is broadcast in the background. Enjoy a picnic on the lower observation deck or in the green area in front of the Airport Administration building. Public viewing is encouraged between dawn and dusk, 365 days a year. For a different angle, head over to Clover Park at the corner of 25th Street and Ocean Park Boulevard - where there is a viewing area with a telescope focused on the runway.
Don't miss Fly-ins, the Women 99's Air Race, Jazz Concerts, and the Annual Airport Santa Monica Airport Open House.   
---
Museum of Flying
The Museum of Flying provides displays and interpretive exhibits on the history of flight and the development and growth of the aviation and aerospace industry in Southern California. Based on our heritage, the Museum places heavy emphasis on the Douglas Aircraft Company and the history of the Santa Monica Airport. The museum has a popular hands-on interactive and education center for children. 3100 Airport Avenue. www.museumofflying.org
---
Airport Park
Soccer field, play and tot areas, picnic areas, BBQs, walking loop and dog park. Airport Ave. & Donald Douglas Loop South
 DC-3 Monument with Donald Douglas Statue, Airport Avenue and Donald Douglas Loop South
---
Airport Avenue Demonstration Gardens
The Airport Avenue Demonstration Gardens are a collection of three distinct sustainable landscapes that provide everything you need for your own home landscape. The garden designs feature an eco-friendly lawn alternative, a vegetable garden, a private outdoor sanctuary. 
---
Restaurants
---
 Santa Monica College Arts Campus + Arts Studios and Ceramics Center.
2800 Airport Avenue