| | |
| --- | --- |
| Article number: | 1654 |
| Availability: | In stock |
| Delivery time: | 1-7 DAYS |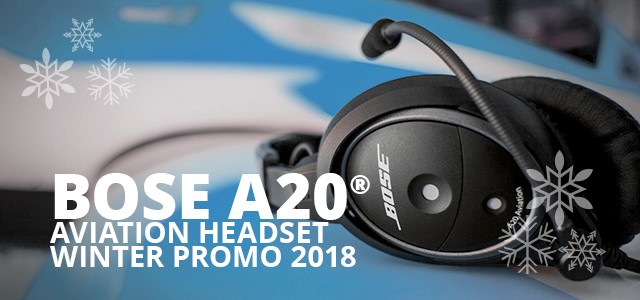 BOSE A20 WINTER PROMO
For a limited time, end users will receive a SoundLink Revolve Bluetooth® speaker with the purchase of one Bose A20® Aviation Headset. Additionally, customers will be offered 10% off the second and subsequent purchase of the Bose A20® Aviation Headset (when purchased together on the same receipt).

US/Canada promotional offer—valid November 23, 2018 to January 5, 2019. 
The Bose® A20® Aviation Headset is engineered to be more comfortable and provide more noise reduction than any headset we've ever made, while still delivering the acclaimed clear audio you expect from Bose. In addition, it now offers you upgraded features including a Bluetooth® audio and communications interface,* customizable audio prioritization control, intuitive operation, a high-performance microphone and an optional coil cord.* It also has flexible power circuitry* with auto-on that switches seamlessly to and from battery power and aircraft power. The A20 headset is certified to FAA TSO C139 standards. Plus, it's among the lightest of all active noise canceling headsets, with a weight of just 12 ounces. No other headset offers this unique combination of features and benefits.
This variant of the Bose A20® Aviation Headset is battery powered, has a straight cord, twin plug connector, electret mic, and included Bluetooth.
Acclaimed noise reduction for pilots – 30% greater active noise reduction than conventional headsets
Comfortable, stable fit with 30% less clamping force than conventional headsets
Clear audio with active equalization
Bluetooth® audio and communications interface for connectivity with your communications and navigation devices†*
Customizable audio prioritization control: choose "mute" to immediately mute an audio signal when receiving a communication; choose "mix" to mix in-bound communication with your Bluetooth or plugged-in audio signal†
Simple, intuitive headset operation - plug it in, turn it on, go flying†
Coil cord down-cable now available†*
Connect the mic to either the left or right earcup
Flexible power with auto-on - headset switches seamlessly to and from battery power and aircraft power*
Certified to FAA TSO C139 standards
Among the lightest of all noise canceling headsets, with a weight of just 12 ounces
High-performance microphone†
At least 45 hours of typical headset use from two AA batteries

†Upgraded feature for this headset
*Available in certain variants of the headset